NAIL TUTOR
RESULT!



LUNULA:
diminished (= obliterated nail moon)
Diminished lunula are more often seen in older people (and in people who have rather small nail units). When the process of diminishing occurs fast, this might signal medical problems [source: Wikipedia]

Diminished lunula are frequently seen in Down's syndrome (trisomie 21). Medical vocabulary: obliterated lunula.

Additional info: half-and-half nails



>> RESTART THE NAIL TUTOR <<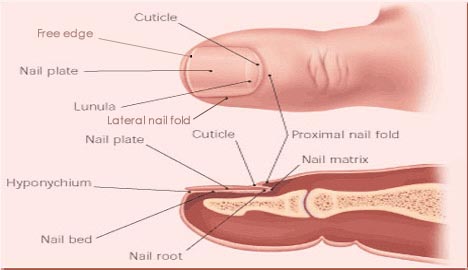 THE NAIL UNIT
The eight basic components of the nail unit include: 1 - proximal nail fold;
2 - cuticle; 3 - lunula; 4 - nail plate; 5 - lateral nail folds; 6 - nail bed;
7 - hyponychium; 8 - free edge.
* NOTICE: The
HandResearch Nail Tutor Tool
is still in development - currently this tool discriminates 57 fingernail disorders in the nails. The NAIL TUTOR tool is an aspect of
Medical Hand Analysis
&
Multi-Perspective Hand Reading
. The purpose of this tool is to help you identify the nature of your fingernail disorder. The section
fingernail disorders
presents a more comprehensive overview of the most common fingernail abnormalities.