NAIL TUTOR
RESULT!



LUNULA:
missing (= absent nail moon)
IMPORTANT: An absent lunula is perfectly natural on the little finger!

Many people have 8 lunula, though some of them might be hidden under the cutticles - because the lunula are typically diminishing in size from the thumb to the little finger. Fewer than 8 lunula can signal various vulnerabilities such as: malnutrition, protein deficiency, vitamin A deficiency, anemia (deficiency of red blood cells), not enough oxygenation, poor circulation, numbness, or heart disease [source: Medscape]. No lunula at all on all fingers (missing lunula) has been recognized as a feature of various chromosome abnormalities.


>> RESTART THE NAIL TUTOR <<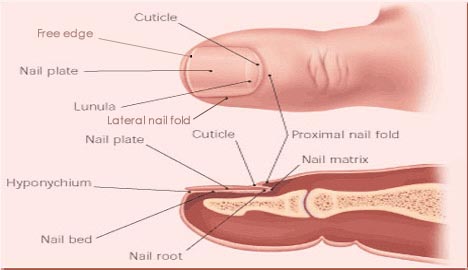 THE NAIL UNIT
The eight basic components of the nail unit include: 1 - proximal nail fold;
2 - cuticle; 3 - lunula; 4 - nail plate; 5 - lateral nail folds; 6 - nail bed;
7 - hyponychium; 8 - free edge.
* NOTICE: The
HandResearch Nail Tutor Tool
is still in development - currently this tool discriminates 57 fingernail disorders in the nails. The NAIL TUTOR tool is an aspect of
Medical Hand Analysis
&
Multi-Perspective Hand Reading
. The purpose of this tool is to help you identify the nature of your fingernail disorder. The section
fingernail disorders
presents a more comprehensive overview of the most common fingernail abnormalities.