NAIL TUTOR
RESULT!



LUNULA:
blue (= bluish nail moon)
Spots in the lunula may appear as redness colour of the pale arched area: it occurs when the capillaries under the nail are congested. Spotted lunulae are commonly seen in (nail) psoriasis.

Spotted lunulae dyschromia is typically seen in patients with alopecia areata, psoriasis vulgaris and lichen planus [source: Keratin.com]. Additional info: red spots in nail bed (lunula). Medical vocabulary: lunular dyschromia

Synonyms: spotted lunulae


>> RESTART THE NAIL TUTOR <<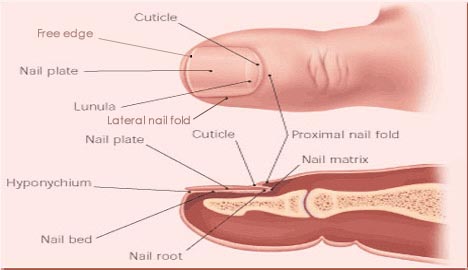 THE NAIL UNIT
The eight basic components of the nail unit include: 1 - proximal nail fold;
2 - cuticle; 3 - lunula; 4 - nail plate; 5 - lateral nail folds; 6 - nail bed;
7 - hyponychium; 8 - free edge.
* NOTICE: The
HandResearch Nail Tutor Tool
is still in development - currently this tool discriminates 57 fingernail disorders in the nails. The NAIL TUTOR tool is an aspect of
Medical Hand Analysis
&
Multi-Perspective Hand Reading
. The purpose of this tool is to help you identify the nature of your fingernail disorder. The section
fingernail disorders
presents a more comprehensive overview of the most common fingernail abnormalities.