NAIL TUTOR
RESULT!



LUNULA:
red (= reddish nail moon)
A red lunula belongs to the most common color changes in fingernails; red lunulae are a non-specific finding in various disparate conditions as: cardiovascular disease, collagen vascular disease, congestive heart (cardiac) failure, rheumatoid arthritis, pulmonary disorders (lung disease), and hematologic malignancy [source: Medscape]

Less common causes of red lunula colour are: alopecia, lupus erythematosus, and poisoning (carbon monoxide, heavy metal). Additional info: diffuse reddish nail bed / lunula.

Synonyms: reddish lunulae


>> RESTART THE NAIL TUTOR <<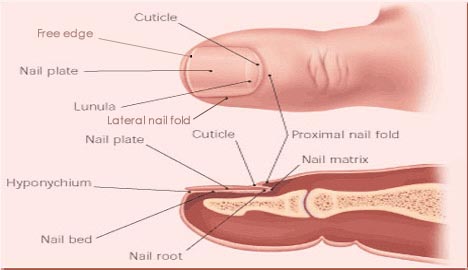 THE NAIL UNIT
The eight basic components of the nail unit include: 1 - proximal nail fold;
2 - cuticle; 3 - lunula; 4 - nail plate; 5 - lateral nail folds; 6 - nail bed;
7 - hyponychium; 8 - free edge.
* NOTICE: The
HandResearch Nail Tutor Tool
is still in development - currently this tool discriminates 57 fingernail disorders in the nails. The NAIL TUTOR tool is an aspect of
Medical Hand Analysis
&
Multi-Perspective Hand Reading
. The purpose of this tool is to help you identify the nature of your fingernail disorder. The section
fingernail disorders
presents a more comprehensive overview of the most common fingernail abnormalities.