NAIL TUTOR
RESULT!



LUNULA:
blue (= bluish nail moon)
A blue lunula colour is an indiation for circulatory problems, or a lack of oxygen. Other more rare causes are: use of medical drugs (such as: hydroxyurea & sparfloxacin), Argyria, or Wilson's disease [source: Wikipedia]

NOTICE: A bluish tinge just above the lunulae but not on the rest of the nail, could be recognized as an indication for heart disease, heavy metal poisoning, or lung disease. Medical vocabulary: bluish lunulae

Synonyms: azur lunula, purple lunula


>> RESTART THE NAIL TUTOR <<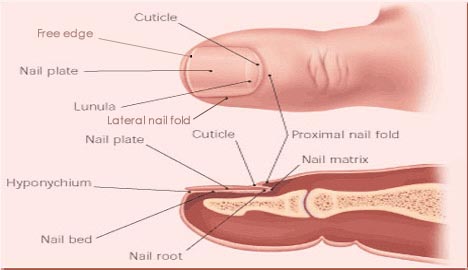 THE NAIL UNIT
The eight basic components of the nail unit include: 1 - proximal nail fold;
2 - cuticle; 3 - lunula; 4 - nail plate; 5 - lateral nail folds; 6 - nail bed;
7 - hyponychium; 8 - free edge.
* NOTICE: The
HandResearch Nail Tutor Tool
is still in development - currently this tool discriminates 57 fingernail disorders in the nails. The NAIL TUTOR tool is an aspect of
Medical Hand Analysis
&
Multi-Perspective Hand Reading
. The purpose of this tool is to help you identify the nature of your fingernail disorder. The section
fingernail disorders
presents a more comprehensive overview of the most common fingernail abnormalities.