Find potential causes for 57 nail abnormalities
in only 3 steps!


NAIL TUTOR
RESULT


Sorry, the NAIL TUTOR is unable to identify
your hyponychium nail disorder.
Choose one of the options below:
You can make a nail-assessment request via this
forum or via Facebook; please present specified
details about your nail disorder (preferably featured
with quality photos displaying your nail disorder).

RE-START the Nail Tutor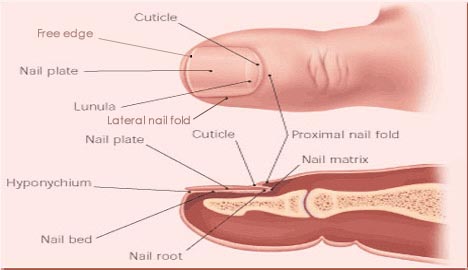 NAIL UNIT ANATOMY
The eight basic components of the nail unit include:
1 - proximal nail fold; 2 - cuticle;
3 - lunula; 4 - nail plate; 5 - lateral nail folds; 6 - nail bed;
7 - hyponychium; 8 - free edge.
* NOTICE: The HandResearch Nail Tutor Tool is still in development. Currently this tool includes 57 nail disorders. The NAIL TUTOR tool is based on Medical Hand Analysis & Multi-Perspective Hand Reading, which e.g. implicates that one should keep in mind that any single nail abnormality should be expected to have an association with a range of potential causes!
The purpose of this tool is to assist you with identifying the nature of a fingernail disorder. The section fingernail disorders presents a more comprehensive overview of the most common fingernail abnormalities.


NAIL ENCYCLOPEDIA | FINGERNAIL NEWS


RELATED ARTICLES:

• Fingernails in the hand of children!
• Fingernails in elderly patients!
• Vertical nail ridges & your health!
• What causes dry brittle nails?
• Nail biting
• Yellow nails + yellow nail syndrome!
• Fingernail diseases
• Fingernail products
• Hand Sign Tutor: 60+ nail signs!