NAIL TUTOR
RESULT!



CUTICLE:
damaged + hangnails
Hangnails are usually caused by dryness, injury, nail biting, or cutting the cuticles. A Hangnail is not really a seriouis problem, but it does make a nail look unattractive and annoying.

When attempting to remove a hangnail, use nail scissors or a nail clipper; biting them usually makes it worse - which could result in a painful infection called paronychia.

Synonyms: agnails, hang nails



>> RESTART THE NAIL TUTOR <<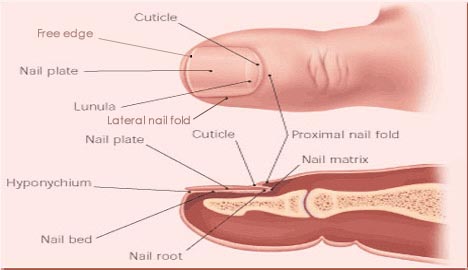 THE NAIL UNIT
The eight basic components of the nail unit include: 1 - proximal nail fold;
2 - cuticle; 3 - lunula; 4 - nail plate; 5 - lateral nail folds; 6 - nail bed;
7 - hyponychium; 8 - free edge.
* NOTICE: The
HandResearch Nail Tutor Tool
is still in development - currently this tool discriminates 57 fingernail disorders in the nails. The NAIL TUTOR tool is an aspect of
Medical Hand Analysis
&
Multi-Perspective Hand Reading
. The purpose of this tool is to help you identify the nature of your fingernail disorder. The section
fingernail disorders
presents a more comprehensive overview of the most common fingernail abnormalities.