NAIL TUTOR
RESULT!



CUTICLE:
dry & dammaged
The major cause for a damaged cuticle is: dry hands. Nail cuticles easily get dry and flaky, especially in the winter months. And if you wash your hands frequently or enjoy biting your nails, your cuticles may look ragged all year long.

TREATMENT: Proper nail care and cuticle creams or oils. Do not cut your cuticles, gently rub away the dead skin with a towel.

Synonyms: dry cuticles, ragged cuticles, hangnails, agnails


>> RESTART THE NAIL TUTOR <<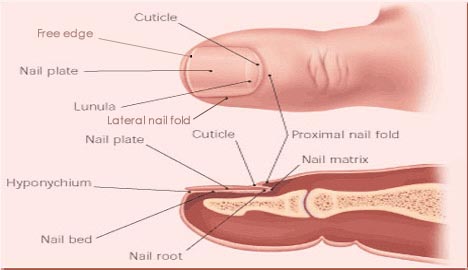 THE NAIL UNIT
The eight basic components of the nail unit include: 1 - proximal nail fold;
2 - cuticle; 3 - lunula; 4 - nail plate; 5 - lateral nail folds; 6 - nail bed;
7 - hyponychium; 8 - free edge.
* NOTICE: The
HandResearch Nail Tutor Tool
is still in development - currently this tool discriminates 57 fingernail disorders in the nails. The NAIL TUTOR tool is an aspect of
Medical Hand Analysis
&
Multi-Perspective Hand Reading
. The purpose of this tool is to help you identify the nature of your fingernail disorder. The section
fingernail disorders
presents a more comprehensive overview of the most common fingernail abnormalities.