NAIL TUTOR
RESULT!



CUTICLE:
missing + nail fold inflammation
A missing cuticle is typically the result of a (chronic) inflamation of the nail fold - a.k.a.: paronychia

TREATMENT: Since most cases of chronic paronychia are caused by fungi, your doctor will treat the infection with antifungal medication. When the inflamation has disappeared cuticles usually start growing, and the no cuticle condition will probably disappear [source: Ailments.com]

Medical vocabulary: aplasia cutis



>> RESTART THE NAIL TUTOR <<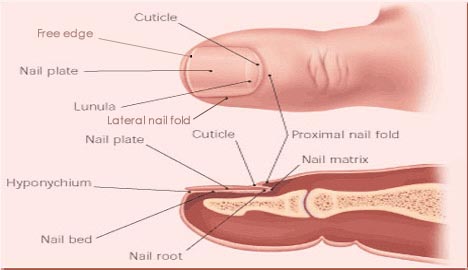 THE NAIL UNIT
The eight basic components of the nail unit include: 1 - proximal nail fold;
2 - cuticle; 3 - lunula; 4 - nail plate; 5 - lateral nail folds; 6 - nail bed;
7 - hyponychium; 8 - free edge.
* NOTICE: The
HandResearch Nail Tutor Tool
is still in development - currently this tool discriminates 57 fingernail disorders in the nails. The NAIL TUTOR tool is an aspect of
Medical Hand Analysis
&
Multi-Perspective Hand Reading
. The purpose of this tool is to help you identify the nature of your fingernail disorder. The section
fingernail disorders
presents a more comprehensive overview of the most common fingernail abnormalities.